Latest Update - August 2014


* Mark your Calendar
Thursday 21st August 2014 - AUCKLAND Solo Exhibition 5.30 - 7.30pm
Allpress Gallery - 8 Drake Street, Auckland CBD (behind Victoria Park Market)


After a hiatus period of eleven years I thought it was timely to exhibit my new work again on my original home ground.
My theme is 'Home Addiction' and explores our nation's unique and idealistic desire to own our own block of land. The exhibition will feature over 20 paintings on large rounds, canvases, light-boxes and installation pieces.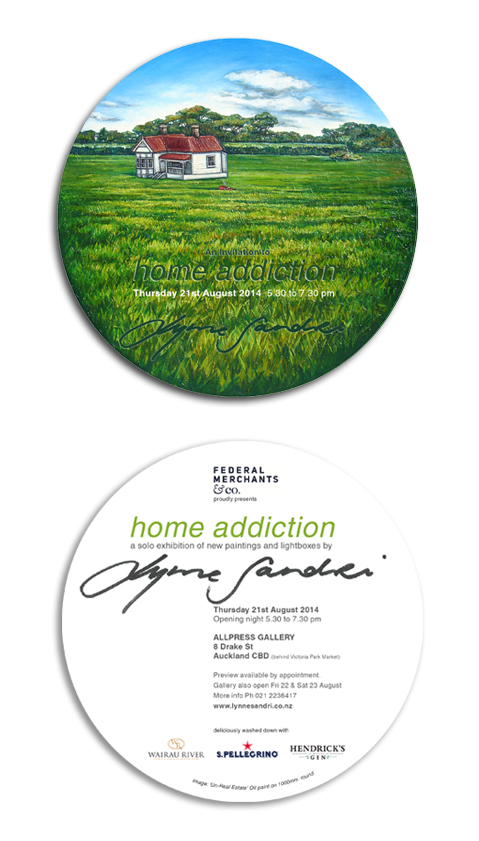 Open Studio - 8th and 9th March 2014 (Done and Dusted)
As part of the Miramar Peninsular Arts Trail, my studio (as well as 20 other Artists) was open on the 8th and 9th of March. Thanks to everyone that came through (lost count after 400). I had a sparkling new collection of paintings and lightboxes to show.
Exhibition Theme for October 2013

Time and extreme idealism have been a constant theme in my work.
Accepting that time rules my life I have chosen to concentrate on this and what time means to me.
I'm concerned with its scarcity, occasional abundance and association with things I regard as timeless such as design, movies, and phrases.
This one is titled 'TIMELESS; All Work and No Play Makes Jack a Dull Boy'
The Adler typewriter and words feature in my favourite movie 'The Shining'. The story is about a writer and his family who are hired as caretakers of a isolated hotel which is closed over the winter. Instead of using the quiet time to inspire him to write his great novel, it instead drove him into complete madness, much to the demise of himself, and his family. Sometimes too much time can drive you crazy.
NZ House and Garden Magazine Home Tour
My home, studio and art has been featured in the November issue of NZ House and Garden Magazine - click here to read
In support of the article and to raise funds for the Cancer Society and Look Good Feel Better my home/studio was one of 10 homes (including Government House) open on the day. 1200 people visited our home and studio with over $300,000 raised for the Cancer Society.

My Studio - 22 Falkirk Avenue, Seatoun, Wellington
I have moved into my new studio. Much more space and fantastic light.

Window/shop front on main road in Seatoun Village Shops
Thanks to the kindness of Jilly at 'The Best Little Bookshop' in Seatoun, I now have a new window/studio front on the main road in Seatoun Village. My plan is to change my artwork every few weeks. Here's how it currently looks: