Latest Update - December 2019
What's Happening
* A NEW SERIES OF PAINTINGS HAS BEGUN
First one warm from my studio is titled 'Look to the Past - It's How We Tell Stories'. Check out Paintings For Sale to view full details.
* FLOOR TO CEILING LARGE SCALE PAINTINGS ON PAPER
A new series of acrylic paint on heavy primed paper and canvas - with more to come in July 2019 (in this case size does matter and it is bound to stop traffic).
* NEW LED LIGHTBOXES NOW AVAILABLE
My lightbox series are on display at my studio. These look great night and day so check them out. Each lightbox has been hand-painted using oil paints, making the colour pop.
Check out more of my new pieces at my Paintings for Sale Section.


* NEW SERIES OF WORK - PAINTING MEETS SCULPTURE
Introducing my new series of paintings with some serious amount of paint (about 20 layers).
They are all about when you find yourself in a new place feeling displaced sometimes all you need to do is look down to the grass beneath your feet or to a garden, to feel at home and grounded.
Check some of them out at my Paintings for Sale section.
Here are some of them close up showing the texture and the 20 layers of paint and others in situ.






* FABRIC DESIGNS
My fabrics are now available in three types of fabric - chiffon, stretch and microtwill in the four designs below. Can be ordered by the metre (1500 x 1000mm) at $100 plus GST per metre. Email art@lynnesandri.co.nz for orders.






* 2016 SCOTS COLLEGE COMMISSION AND ARTIST IN RESIDENCE
To celebrate their 100 year history, I was commissioned to complete a painting to tell the Scots College story.
To make something so complex into simplified images, I used the generationally familiar and timely Agee Jars. Each jar serves to hold a different moment in their history.
The painting titled 'Foundation for Life', will be launched in the August centennial celebrations and then hung outside the Headmaster's office.
(Photo credit goes to photographer Mark Tantrum)


* NEW LIMITED EDITION GICLEE PRINTS on handmade archival paper.
I have unveiled my six new oversized limited edition (only 15 of each design made) giclee print on archival paper (museum quality).






* GUEST ARTIST EXHIBITION - Air New Zealand, Wellington International Koru Lounge
My exhibition has moved from the domestic lounge to Air New Zealand's International Koru Lounge in Wellington from early June 2016 where I will continue to be their guest artist. My paintings will continue to be regularly updated once I have installed- so keep watching this space.
All the art works are for sale.






Past Happening's


AUCKLAND Solo Exhibition - August 2014
Allpress Gallery - Auckland CBD
It was great to reconnect with Auckland after a hiatus period of eleven years.
My theme was 'Home Addiction' and explored our nation's unique and idealistic desire to own our own block of land. The exhibition featured over 20 paintings on large rounds, canvases, light-boxes and installation pieces.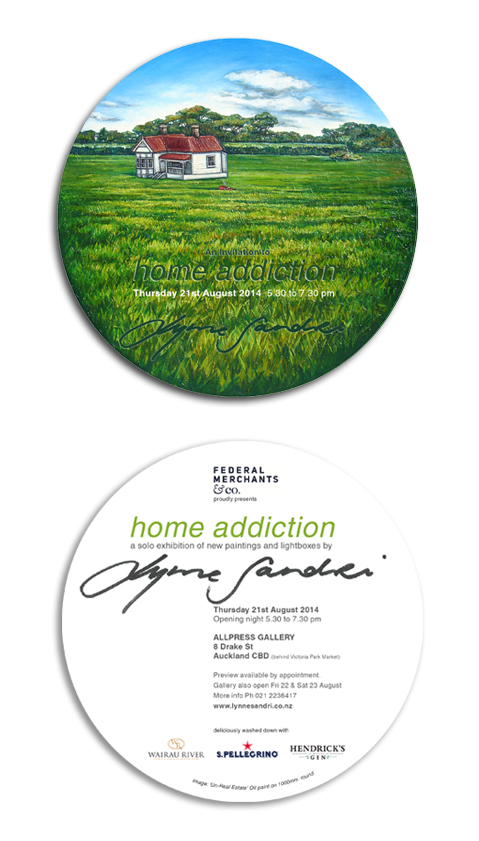 NZ House and Garden Magazine Home Tour
My home, studio and art has been featured in the November issue of NZ House and Garden Magazine - click here to read
In support of the article and to raise funds for the Cancer Society and Look Good Feel Better my home/studio was one of 10 homes (including Government House) open on the day. 1200 people visited our home and studio with over $300,000 raised for the Cancer Society.





My Studio - 22 Falkirk Avenue, Seatoun, Wellington
I have moved into my new studio. Much more space and fantastic light.

Window/shop front on main road in Seatoun Village Shops
Thanks to the kindness of Jilly at 'The Best Little Bookshop' in Seatoun, I now have a new window/studio front on the main road in Seatoun Village. My plan is to change my artwork every few weeks. Here's how it currently looks: