Latest Update - February 2015


What's Coming Up


* Open Studio - Miramar Peninsular Arts Trail Weekend 28th Feb and 1st Mar 2015.
My studio (as well as 20 other Artists) will be open all weekend from 10am to 4pm over these dates. I will have a new collection of paintings and lightboxes to show.
Tickets $10 and available from www.mpat.co.nz
Visit at least 10 studios and be in to win one of 25 original paintings. This is one of my latest you could win:
* Guest Artist - Air New Zealand, Wellington Koru Lounge.
I am very pleased to confirm that 20-30 of my paintings and light boxes will be exhibited and filling the Wellington Domestic Koru Lounge from April 2015 to March 2016 (so I kind of have my own gallery for a year).
The lounge will be regularly updated with new works over this time so watch that space.
* New Light boxes and Neon - check it out on my Paintings for Sale page.
With these new pieces I'm moving away from only using conventional 'artists' materials of simply oil paint on canvas or wood. Playing with light is proving to be very fulfilling.
What's Recently Been Happening


AUCKLAND Solo Exhibition
Allpress Gallery - Auckland CBD
It was great to reconnect with Auckland after a hiatus period of eleven years.
My theme was 'Home Addiction' and explored our nation's unique and idealistic desire to own our own block of land. The exhibition featured over 20 paintings on large rounds, canvases, light-boxes and installation pieces.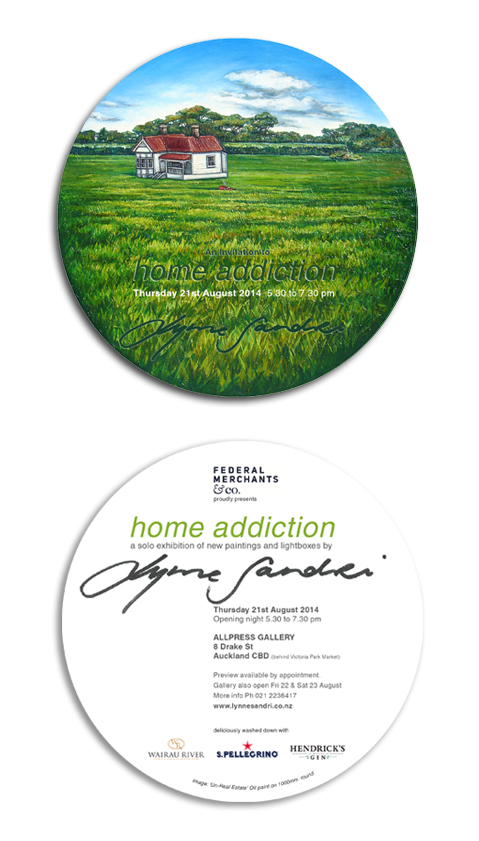 NZ House and Garden Magazine Home Tour
My home, studio and art has been featured in the November issue of NZ House and Garden Magazine - click here to read
In support of the article and to raise funds for the Cancer Society and Look Good Feel Better my home/studio was one of 10 homes (including Government House) open on the day. 1200 people visited our home and studio with over $300,000 raised for the Cancer Society.





My Studio - 22 Falkirk Avenue, Seatoun, Wellington
I have moved into my new studio. Much more space and fantastic light.

Window/shop front on main road in Seatoun Village Shops
Thanks to the kindness of Jilly at 'The Best Little Bookshop' in Seatoun, I now have a new window/studio front on the main road in Seatoun Village. My plan is to change my artwork every few weeks. Here's how it currently looks: