Latest Update - June 2022
What's Happening
* NEW SERIES OF WORK IN THE MAKING
From June to October 2022, I will be working on two new series of work. The first series will be more floor to ceiling canvases and the other series will be heavily layered delicious oil paintings.  I will update the website as they are completed so watch this space!


* NEW PAINTINGS FOR SALE 
This one is hot off the easel and aptly called 'The Dahlia Crowd'.




* COMMISSIONED CORPORATE COLLECTION
Just completed 10 paintings for Robert Jones Corporate Collection.  Here is a taste of six 1000mm x 1000mm heavily textured oil paintings which his tenants will get to enjoy individually. It has been a real pleasure working with Bob and his lovely team.
* RATHER EXCITING COMMISSIONED PIECE
Honoured to be part of Robert Jones new building (and his corporate collection) in Brandon House, corner Featherston and Brandon Streets, Wellington.  A substantial little number 1,800mm x 3,600mm in size.  Aptly titled "Four Seasons in One Day" (as a nod to Wellington's inclement weather and the botanicals that bloom from spring to winter ... in that order). 








* GROWING WELL IN MY STUDIO
Over lockdown it was grey, windy and masked-up outside but I was grateful to be inside in my studio with colour growing up the walls.
Here is a piece of work from that time called 'Picking Favourites' sized at a traffic stopping 1800mm x 1100mm.
An impossible garden that I wish I could grow.
Expect to see more of this series in 2022.




* NEW PAINTINGS
Hello to another one of my new Floor-to-Ceiling paintings series.
Here's to celebrating and immortilising those working botanicals who keep us human's in scent, flavour and medicine.
* These paintings are specially prepared to hang flat on the wall from an invisible baton. They can be adjusted to fit most stud heights (folded behind and attached to the wall underneath or rolled in front).
The shear scale of these large paintings allows you to immerse yourself within and they are difficult to walk past without stopping. They are acrylic on canvas (not paper).








And to cap that off here is another new painting.
In keeping with my fascination with lawn and backyards (it's one of my signature works and open-ended series over the last 20 years). I am forever pondering why we spend our lives pursuing the need to own our own decreasing sized rectangle. Perhaps we are always aiming to live well, have our own backyard and feel anchored.
This one is titled Homeland-Hopeland (with buttercups).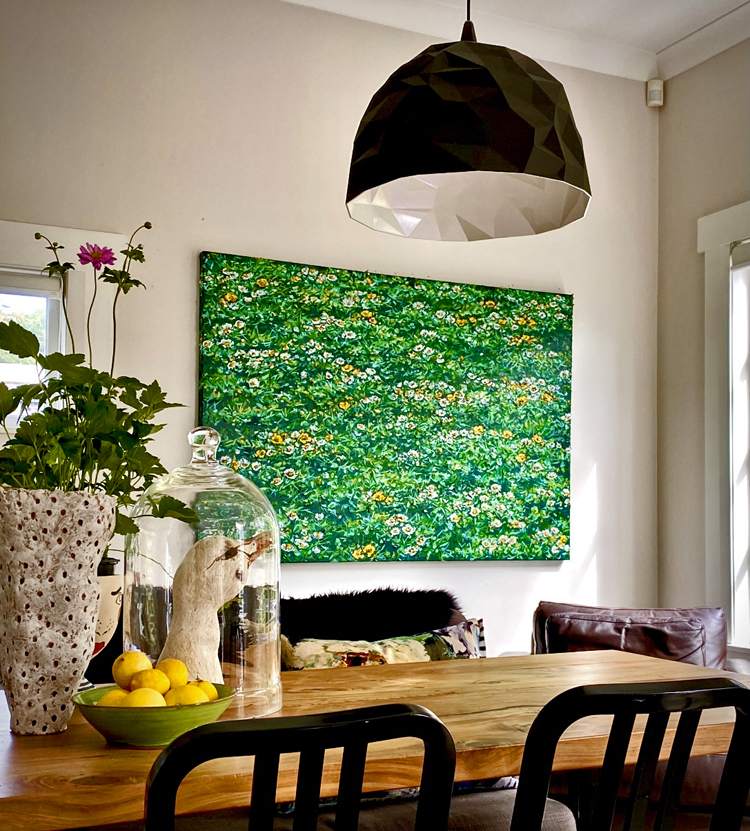 * NEW LIMITED EDITION BOTANICAL PRINT SERIES
In consultation with nature (and all its blooming spring flowers), it seems that everyone is spending more time looking at their blank home walls. So now it feels a good time, as any, to launch my new limited edition print series.










* BACK TO BACK COMMISSIONS
I feel very grateful to be working with many clients (old and new) over the last period of time and have been back to back painting commissioned work. I will be launching a new series of smaller limited edition prints in August so check out my paintings for sale page then.
Couldn't resist my love for dahlias so thought I would preserve some for all time as part of my continually evolving 'Agee Jar Series'. This one is titled 'Summer Dahlias - Contained'.
* FLOOR TO CEILING LARGE SCALE PAINTINGS ON PAPER
A new series of acrylic paint on heavy primed paper and canvas - with more to come later in 2020 (in both these cases, size does matter and they are both bound to stop traffic).
* LED LIGHTBOXES
My lightbox series are on display at my studio. These look great night and day so check them out. Each lightbox has been hand-painted using oil paints, making the colour pop.
Check out more of my new pieces at my Paintings for Sale Section.


* NEW SERIES OF WORK - PAINTING MEETS SCULPTURE
Introducing my new series of paintings with some serious amount of paint (about 20 layers).
They are all about when you find yourself in a new place feeling displaced sometimes all you need to do is look down to the grass beneath your feet or to a garden, to feel at home and grounded.
Check some of them out at my Paintings for Sale section.
Here are some of them close up showing the texture and the 20 layers of paint and others in situ.






* FABRIC DESIGNS
My fabrics are now available in three types of fabric - chiffon, stretch and microtwill in the four designs below. Can be ordered by the metre (1500 x 1000mm) at $100 plus GST per metre. Email art@lynnesandri.co.nz for orders.






* 2016 SCOTS COLLEGE COMMISSION AND ARTIST IN RESIDENCE
To celebrate their 100 year history, I was commissioned to complete a painting to tell the Scots College story.
To make something so complex into simplified images, I used the generationally familiar and timely Agee Jars. Each jar serves to hold a different moment in their history.
The painting titled 'Foundation for Life', will be launched in the August centennial celebrations and then hung outside the Headmaster's office.
(Photo credit goes to photographer Mark Tantrum)


* NEW LIMITED EDITION GICLEE PRINTS on handmade archival paper.
I have unveiled my six new oversized limited edition (only 15 of each design made) giclee print on archival paper (museum quality).






* GUEST ARTIST EXHIBITION - Air New Zealand, Wellington International Koru Lounge
My exhibition has moved from the domestic lounge to Air New Zealand's International Koru Lounge in Wellington from early June 2016 where I will continue to be their guest artist. My paintings will continue to be regularly updated once I have installed- so keep watching this space.
All the art works are for sale.






Past Happening's


AUCKLAND Solo Exhibition - August 2014
Allpress Gallery - Auckland CBD
It was great to reconnect with Auckland after a hiatus period of eleven years.
My theme was 'Home Addiction' and explored our nation's unique and idealistic desire to own our own block of land. The exhibition featured over 20 paintings on large rounds, canvases, light-boxes and installation pieces.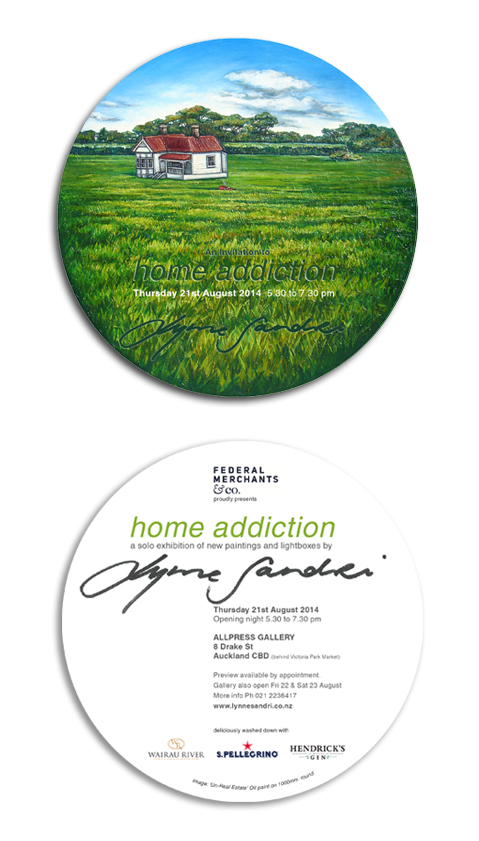 NZ House and Garden Magazine Home Tour
My home, studio and art has been featured in the November issue of NZ House and Garden Magazine - click here to read
In support of the article and to raise funds for the Cancer Society and Look Good Feel Better my home/studio was one of 10 homes (including Government House) open on the day. 1200 people visited our home and studio with over $300,000 raised for the Cancer Society.





My Studio - 22 Falkirk Avenue, Seatoun, Wellington
Check out my studio. Great space and fantastic light.